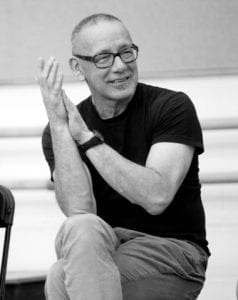 Joe Goode
Artistic Director/Choreographer
Joe Goode is a choreographer, writer, and director widely known as an innovator in the field of dance for his willingness to collide movement with spoken word, song, and visual imagery. He was awarded a John Simon Guggenheim Fellowship in 2007, and the United States Artists Glover Fellowship in 2008. In 2006 Goode directed the opera Transformations for the San Francisco Opera Center. His play Body Familiar, commissioned by the Magic Theatre in 2003, was met with critical acclaim.
The Joe Goode Performance Group, formed in 1986, tours regularly throughout the U.S., and has toured internationally to Canada, Europe, South America, Africa, and the Middle East. Goode is known as a master teacher; his summer workshops in "felt performance" attract participants from around the world, and the company's teaching residencies on tour are hugely popular. He is a member of the faculty of the University of California, Berkeley in the department of Theater, Dance and Performance Studies.
Goode's performance-installation works have been commissioned by the Fowler Museum of Natural History in Los Angeles, Krannert Art Museum, the Capp Street Project, the M.H. de Young Museum, and Yerba Buena Center for the Arts. His dance theater work has been commissioned by Pennsylvania Ballet, Zenon Dance Company, AXIS Dance Company and Dance Alloy Theater among others. Goode and his work have been recognized by numerous awards for excellence including the American Council on the Arts, the New York Dance and Performance Award (Bessie), and Isadora Duncan Dance Awards (Izzies).
---
Company Performers
Damara Vita Ganley
Company Member and Creative Engagement Lead
Damara Vita Ganley is a Bay Area dance artist. She is grateful to have worked with the Joe Goode Performance Group since 2009. She loves sharing movement with others and is the Director of Dance at Kirby College Preparatory School, serves as JGPG's Education Coordinator and enjoys teaching dance for people with Parkinsons. She graduated from UC Santa Cruz with degrees in Anthropology, Womens Studies, and Theater Arts. She has also had the opportunity to work with Bandaloop, Fog Beast, EmSpace Dance, Jo Kreiter/FlyAway Productions, Lisa Townsend, Nancy Karp, Shift Physical Theatre and RJ Muna.
Felipe Barrueto-Cabello
Company Member
Felipe Barrueto-Cabello is a native of Chile and grew up in the Bay Area. He received a degree in Mathematics from Cornell University. Felipe has performed with Joe Goode Performance Group since 1996 and currently serves as Rehearsal Director. He teaches JGPG Technique Class regularly at the Joe Goode Annex, and has taught at Mills College and UC Berkeley in the department of Theater, Dance, and Performance Studies.
James Graham
Company Member
James Graham is an SF based choreographer, performer, and teacher. In 2017 he received an IZZIE for Ensemble Performance (with Sebastian Grubb) for Grahams "Homeroom." In 2015 he received an IZZIE for Individual Performance (for his Full Season). He started his company, James Graham Dance Theatre, in 2010 to present original dancetheatre work that deals with universal experiences in order to provide a space for audiences to understand themselves and others in new ways. Graham produces DANCE LOVERS, an annual event of duets around Valentine's Day. Graham is a Certified Gaga Instructor (Ohad Naharin/Batsheva) and took part in Naharins pilot training program of international Gaga teachers. He has taught Gaga extensively in the U.S., as well as in Canada, France, South Korea, Germany, Sweden, Thailand, and Israel. He is currently on faculty at UC Berkeley and Dominican University/LINES BFA Program. Graham holds an M.F.A. in Dance from The Ohio State University and a B.A. in Theatre, Dance, and Performance Studies from UC Berkeley. In addition to JGPG, he performers with Lisa Wymore & Sheldon Smith.
Marit Brook-Kothlow
Company Member
Marit Brook-Kothlow joined Joe Goode Performance Group in 1990. She collaborated and performed with the company for 17 years, during which she was nominated for an Izzy Award for her role in JGPGs Hometown. She has also danced with Tandy Beal & Company and collaborated musically with composers Erik Ian Walker, Beth Custer and Mikel Rouse. Her dance video projects have been collaborations with Kathleen Hermesdorf, Robert Arnold and RJ Muna. After an extended hiatus, Marit is happy to be back dancing with the company again. She teaches workshops and dance classes in the Bay Area and currently lives in Berkeley, CA with her husband and 9 year old daughter.
Melecio Estrella
Company Member
Melecio Estrella is a Choreographer, Performer and Teacher based in the San Francisco Bay Area. He has been a member of Joe Goode Performance Group since 2004. Additionally he is Co-Artistic Director of Fog Beast and the Associate Artistic Director of BANDALOOP. Estrella has led BANDALOOP in performances in Asia and the US, directing site specific vertical dance for live audiences of thousands. Melecio has also performed with the San Francisco Opera, Scott Wells and Dancers, Faye Driscoll among others. Melecio has been engaged as a choreographer for the San Francisco Opera Center's esteemed Merola program. Along with his extensive experience as a creator and performer of Dance Theater and Vertical Dance, Melecio brings a breadth of knowledge on community engagement and education in the live arts.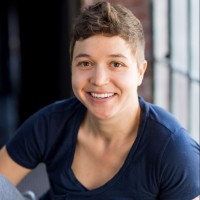 Molly Katzman
Company Member
Molly Katzman started dancing in middle school at Nevada City School of the Arts and then danced all through high school in the Nevada Union Theatrical Dance program. She attended Cabrillo College where she won the Roberta Bristol award for dance in 2009, then went on to earn her B.A. at UCSC. While living in Santa Cruz, she has danced for choreographers such as Cid Pearlman, Cat Willis, Dixie Shulman, Gerald Casel and is a member of FLEX dance company. Molly and Sierrah Dietz, who started their own company, HOMEbodies, debuted their first show in April 2012, presented their second show in 2013, and entered the New Orleans Fringe Festival in 2014 where they were nominated for the award, Outstanding Choreography (New Work). Molly currently teaches in Santa Cruz at Motion Pacific.
Patricia West
Company Member and Creative Engagement Lead
Patricia West is an Oakland based dancer, choreographer, and elementary school teacher. She earned a B.A. in English, Dance, and Education at U.C. Berkeley and an M.A. in Education at San Jose State University. Patricia has worked and performed with Bay Area Repertory Dance, Capacitor, Levy Dance, Lorraine Hansberry Theater, Robert Moses KIN, The Alayo Dance Company, and Zaccho Dance Theater. Patricia is currently one of the Education Coordinators for JGPG and has been a member since 2006.
Wailana Simcock
Company Member
Wailana Simcock was born in the Philippines and raised in Hawaii. He became a professional contemporary dancer when he moved to San Francisco in the mid 1990's. He is also an aerial artist, hula practitioner, and surfer. Now back in San Francisco after a 17 year hiatus, he is dancing with Bandaloop, KAMBARA + DANCERS, Fog Beast, Steamroller, and Joe Goode Performance Group. He is excited to be here and honored to share dance with the community that first gave him his start.
---
Dancers Emeriti
Liz Burritt
Dancer Emerita
Liz Burritt is an original member of Joe Goode Performance Group and has been an instrumental collaborator in the making of over 30 original works. She has been featured in many pieces including The Ascension of Big Linda into the Skies of Montana, Disaster Series, Remembering the Pool at the Best Western, Maverick Strain, and What the Body Knows. She is the recipient of an Isadora Duncan Dance Award for Individual Performance. Liz was a faculty member in the Dance Department of Columbia College Chicago for ten years. She teaches technique, voice and performance workshops for dancers and actors around the country. She is currently residing in Denver, Colorado teaching at Denver School of the Arts. She is extremely grateful for her twenty-one fulfilling, transformative years creating and performing with the family of the Joe Goode Performance Group.
---
Staff
Aja Randall
Venue and Operations Manager
Aja Randall is originally from St. Louis Mo and graduated from Stephen College, Columbia Mo. with a BFA in Dance and Minor in Education in 1999.  After moving to the Bay Area in 2004, she danced for several local artists with the longest stretch for Afro-Cuban based Alayo Dance Company. She has been Yoga Alliance Certified and teaching since 2017 and maintains a passion for making yoga accessible for all people. She has worked for JGPG since 2016 in varying roles with her most cherished being that of Teaching Artist, holding space and carrying on Joe Goode's legacy.  As the new Venue and Operations Manager, she is thrilled to be given the opportunity to deepen her connection to the company and support in the crafting of offering an extension of performance art to a broader community.
David Mack
Executive Director
For over a decade, Mack has managed some of LA's most innovative dance, opera and theatre companies, including: The Industry, Watts Village Theater Company and Invertigo Dance Theatre.  Additionally, he has consulted for a variety of performing arts organizations, including: Center Theatre Group, L.A. Dance Project, DIAVOLO | Architecture in Motion and Ate9 Dance Company.  As a volunteer, Mack has served on the Boards of several arts organizations, including: the Dance Resource Center, LA County Department of Arts and Culture Cultural Equity and Inclusion Initiative Advisory Committee, and Theatrical Producers' League of Los Angeles.  
Currently, Mack serves on the Board of the Western Arts Alliance and was selected to be a member of ArtEquity's National 2021 BIPOC Leadership Circle.  Moreover, he remains Founder and Strategic Executive Officer of Artist Magnet, a social network and professional development service for theatre people.
Jeanne Pfeffer
Special Projects Lead
Jeanne is a writer, producer, and dance artist with 12+ years of experience in the Bay Area dance community. She cut her chops managing dance companies like FACT/SF and Jess Curtis/Gravity before a seven-year career with CounterPulse that began with her as an intern and ended with her as Director of Producing & Advancement. She consults with arts and culture organizations large and small, specializing in development and production. She serves as the President of the Board for FACT/SF and was a Fellow with the Emerging Arts Professionals San Francisco Bay Area. As a dance artist Jeanne has shown work at CounterPulse, PianoFight Theater, and the American Dance Festival. She writes poems, short stories, and novels.
Jessi Barber
Producing Lead
Jessi Barber (she/her) is originally from Maine and has been living, working, and dancing in the Bay Area since 2010. She was the Production Manager and Communications Coordinator at Shawl-Anderson Dance Center (SADC) for 5 years and currently produces SADC's annual Queering Dance Festival.  As a freelance stage manager and lighting designer she has worked for dance companies throughout the Bay Area including Wax Poet(s), Paufve Dance, Fog Beast, and ka.nei.see | collective. Jessi holds a BA in Environmental Studies with a minor in Dance Performance from Oberlin College and loves plants, poetry, and collaboration.
Melissa Lewis Wong
Communications Lead
Melissa Lewis Wong (she/they) came from Massachusetts to San Francisco in 2010 to eventually graduate from the Performing Arts & Social Justice program at the University of San Francisco. They have worked with JGPG since 2017. Also currently working on their: choreography (Bruce Lee!), film photography,  and Chinese fluency (on the phone with mom). They're excited about broadening JGPG's programming towards more accessibility and community-driven practices. Please share any thoughts or ideas: [email protected]
---
Board of Directors
Aarin Burch
Aarin Burch (CEO, Laurel Burch Studios) is a native San Franciscan with an extraordinary upbringing. As the daughter of internationally renowned artist and designer Laurel Burch, Aarin grew up surrounded  by her mother's vibrant paintings and a plethora of Laurel-designed jewelry, apparel, and home decor that made family life a truly creative endeavor. After Laurel's death, Aarin launched Laurel Burch Studios in 2012 to continue to make her mother's vivid art and messages available to all. As CEO and founder of Laurel Burch Studios, Aarin drives new approaches to bring her mother Laurel's extraordinary designs to life and grow the brand in exciting new directions. Aarin began her creative journey at the California College of Arts and Crafts where she obtained her BFA in 1991. Aarin served on San Francisco's Frameline Board of Directors  from 1995-1999 and as an established filmmaker, she's received notable recognition for  her films shown at festivals throughout the world. As an independent film and video  producer, she operated Aarin Burch Productions for 23 years in which she produced, edited, and directed promotional videos, concert videos, and documentaries, as well as trailers for several feature-length films. Currently, Aarin is working on a full length documentary film depicting renowned artist and designer Laurel Burch's life, art, and legacy. In addition, Aarin is the assistant head instructor at Hand to Hand Kajukenbo and currently holds a 6th degree blackbelt in Kajukenbo; she also taught hip hop dance for over 20 years.
Amy Luckey
Board President
Amy's first experience with the Joe Goode Performance Group was as a participant in the Embodied Leader workshop. Joe's invitation to participants to explore and unveil the meaning of the movement experience for themselves, rather than to unpack and explain it for them drew her in. Amy works with organizations to foster more inclusive and human-centered structures and cultures. Previously, Amy provided information, analysis, and insights to philanthropic foundations. She assisted foundations striving to create change around a wide range of issues including international intellectual property rights, digital media and children, food security, human rights, citizen journalism, healthcare technology, living wages, broadband access, youth development, economic justice, and community philanthropy. Amy holds a Masters degree from Harvard University and a B.A. from Indiana University. She is delighted to have the chance to share her professional expertise and personal passion for the arts, especially dance, with JGPG.
Elise Hurwitz
Elise has been in the  Bay Area for 30 years, moving to San Francisco in the early 90's to attend the MFA in Filmmaking program at the San Francisco Art Institute.  Elise made several experimental films and a short narrative that screened in festivals and museum shows.  Elise worked for and with non-profit media arts organizations including Film Arts Foundation and the San Francisco Cinematheque and taught Sound for Film at San Francisco State University.  For some years Elise did audio production and post-production work for independent filmmakers before finding what would become her true career passion: designing and building consumer electronics. After working for companies making electronic educational toys, media products for schools, and home automation devices, Elise now works for the financial services company Square leading hardware engineering program management. Elise helps teams design new products that meet needs of small businesses and sole proprietors. Elise is thrilled to now be coming back to the local arts community and is excited to share her professional skills and love of movement arts with JGPG. Elise lives in Oakland, CA with her two cats and is mom to a college-aged daughter.
Ellen Chamberlain
Ellen Chamberlain fell in love with dance when she took her first ballet/tap combo class in preschool. After studying the artform across disciplines for nearly 20 years, she pivoted to follow another personal passion and began working as a journalist. Her stories have graced airwaves, both print and digital publications across the country, and she even presented a TEDx talk dedicated to hip hop—another "artistic true love" of hers. Ellen enjoys reading, water activities, travel, and entirely too much television. The Michigan native earned her bachelor's degree in broadcast journalism from Wayne State University and currently lives in metro Atlanta with her wife and son.
Kathleen Moore
Secretary
Kathleen Moore is a native San Franciscan. She has spent over 25 years in children's non-profit arts education with the San Francisco Arts Education Project (SFArtsED), an early collaborator with the JGPG Youth Education program. Kathleen received a BA in Physical Education with a Dance Emphasis from San Francisco State University and has a dance performance background that stretches back to the late 1970's. She has served on the boards of Pearl Ubungen Dancers and Musicians and the Tenderloin Reflection and Education Center. As a side gig, Kathleen has designed and built thousands (whew!) of children's costumes for SFArtsED and the Brisbane Dance Workshop. The highlight of Kathleen's week is JGPG's Movement for Humans class and she has been a fan and grateful witness of the deeply tender, humorous, and honest work of Joe Goode and JGPG for over two decades. Kathleen's intention is to listen and actively support JGPG and all of its programs in any and every way that is truly helpful. She sends gratitude to po po Helen Kwan who came to America as a picture book bride and paper daughter. Her sacrifices have made her granddaughter's journey and service in the arts possible.
Lucille Freedman
Treasurer
Lucille Freedman was born and raised in South Africa, graduating from the University of Cape Town, with a special emphasis in Speech and Drama. She emigrated to the US with her family in 1973, and settled in the Bay Area. An influential cooking job led to her starting her own catering business. After successfully running this line of business for 12 years, she changed careers and trained to become a tax professional, securing an Enrolled Agent License. Additionally she obtained a Series 7 (stock broker) License and established a one-stop Tax and Financial Planning practice which she operated for 35 years until her recent "semi-retirement". Dance and movement have always been important to Lucille. Encountering Joe Goode and his Movement for Humans weekly classes was, and has continued to be, deeply influential. Joe's community endeavors constantly inspires Lucille's public-spirited perspective. Sharing her extensive business and financial knowledge as well as her previous experience serving on the board of another arts organization, will be a fulfilling contribution to the Joe Goode organization. Lucille lives in the Montclair district of Oakland.
McCrae Parker
McCrae Parker,a SF Bay Area native, has spent 25 years working at the intersection of digital technology access, media advocacy, community empowerment and equity. His roles at local, state and national levels have ranged from community educator to policy advocate to senior leadership positions in local and national organizations. Most recently, McCrae was the Deputy Director at MediaJustice a national organization focused on media rights, access, representation and power for POC/LGBTQ+ communities in the digital arena. Prior, he was the Managing Director of ZeroDivide where he designed and implemented capacity building and leadership development projects that leveraged digital technology in under-resourced and under-served communities for social equity and justice outcomes in vulnerable communities. McCrae is currently an Advisor for Public Matters, Inc. (Los Angeles, CA) and serves as a consultant for the The Dialogue Company (National).