Joe Goode Performance Group
in partnership with San Francisco Heritage

Directed by 
Joe Goode
Melecio Estrella
OYSTERKNIFE
(Chibueze Crouch + Gabriele Christian)
with producing support from BANDALOOP 
Time of Change is a dance-theater experience with pop-up moments of original music, monologues and movement all around the Haight-Ashbury neighborhood. 
Welcome
from Joe Goode:
I learned about the hippie movement in high school (late 60s, Virginia) from an article in Life Magazine, I think. Amidst young people with long flowing hair and a girl with a bandana on her head stuffing a flower down the barrel of a policeman's rifle—one photograph completely rocked me: a casually gender-bending person wearing a kimono and a parasol in the middle of the afternoon. It made me think that San Francisco was a utopia in bloom, a place of bold liberation.
I began this project 40 years later to look at where the counterculture dream started and how it has turned out, asking: Who was the dream for? I knew the story to tell wasn't merely my own, so I invited Melecio Estrella, Chibueze Crouch, and Gabriele Christian to join as Co-Directors.
from Melecio Estrella:
I was born in San Francisco. My mother comes from a sprawling Filipino Catholic family of 16 children, whose family house was on Clayton Street. She both went to grammar school and got married at St. Agnes Church on Masonic Avenue at Page Street. An inquiry of this neighborhood and its stories is literally a family affair. 
OYSTERKNIFE (Chibueze Crouch + Gabriele Christian):
Time of Change gives us a chance to ground into the overlooked stories of peers, icons, and elders, of folks who have direct experience with this lost Black neighborhood and this lionized countercultural era. 
---
We hope this work will be an act of gratitude to this city that has held us and a loving tribute to those named and nameless who came before.
---
The Team
Live Performers: Marit Brook-Kothlow, Gabriele Christian, Chibueze Crouch, Clarissa Dyas, Damara Vita Ganley, James Graham, Molly Katzman, Pangaea, Jarrel Phillips, Wailana Simcock, Jessica Swanson, Saharla Vetsch, Patricia West
Rooftop Musicians: Ben Juodvalkis, Ryan Huber
Performers on Video: Joe Goode, Levi Maxwell, Pangaea
Audio Tour Musicians: Monica Hastings-Smith, Ben Juodvalkis, Maya Nixon, Iwalani Venerable
Audio Tour Poets: Tongo Eisen-Martin, Ashley Smiley
Music Direction: Ben Juodvalkis
Production Management: Katherine Mattson
Stage Managers: Kimi Harvey-Scott, Sam Kimbrel, Krista Lane, Hannah Rosenzweig
Dramaturgy: Lashon Daley
Lighting Design: Grisel Torres
Audio Tour Design: James Ard
Costume Design: Wendy Sparks
Live Audio Design: Kevin McKereghan
Producing Support: Bandaloop
Riggers: Brooke Anderson, Matt Leonard
Costume Design Assistants: Alejandro Ramirez Alvarado, Malia Sittler
Filmmaker: Alexa Burrell
Graphic Design: Kevin Clarke
Publicist: Mona Baroudi
Poster Art: Serge Gay, Jr.
Photography: RJ Muna

Guides: Jessi Barber, David Magidson, Delayne Medoff, Aja Randall, Rasa Vitalia, Amy Wilson, Alyssandra Wu, Dalia Yalda
Audio Description: Stephanie Hewett of Gravity Access Services
ASL Interpretation: Juan
Interviewees: Blackberri, Felirene Bongolan, Liz Burritt, Tobe Melora Correal, Theresa Dickenson, Evelyn Estrella, Jim Estrella, Danny Glover, Joanna Haigood, Randy Jordan, Rhodessa Jones, Justine Kaltenbach, Eric Noble, Andrew Pollack, George Santos, Dr. David Smith, Amara Tabor-Smith
JGPG Artistic Director: Joe Goode
JGPG Executive Director: Michelle Lynch Reynolds
SF Heritage Interim CEO: Woody LaBounty
JGPG Communications & Program Manager: Melissa Lewis
JGPG Program Coordinator & Front of House Lead: Jessi Barber
Heritage Communications & Programs Manager: Kerri Young
Board Member Emeritus, SF Heritage: Nancy Gille

Our Co-Directors
Joe Goode is known as an innovator in the field of dance with an artistic process that excavates real human stories. His early works in the 80's were a pivotal part of the evolution of modern dance to what is now termed "dance theatre," because – unlike many of his peers – Goode's performers spoke and sang onstage. The past decade marked a shift from proscenium works to installation projects, from 2009's Traveling Light in the then-unrenovated old SF Mint, to 2015's roving Poetics of Space at JGPG's Annex, to 2018's Still Standing inside a historic residence. Goode has received numerous awards, including a "Bessie", Isadora Duncan Dance Awards (Izzies), a John Simon Guggenheim Fellowship, and the United States Artists Glover Fellowship. Goode is Chair of the UC Berkeley Dept of Theater, Dance and Performance Studies.
Melecio Estrella is co-artistic director of Fog Beast, artistic director of BANDALOOP, and a member of JGPG since 2004. His choreographies have been commissioned by Yerba Buena Center for the Arts, the San Francisco Opera Center, Dancers' Group, Headlands Center for the Arts,and numerous universities and festivals around the globe. He was a 2018-2019 recipient of the Gerbode Special Award in the Arts, and a 2017/18 Leadership Fellow with the Association for Performing Arts Professionals (APAP). Estrella is committed to advancing equity, access, environmental and social justice through body based practices, creative convening and public live art.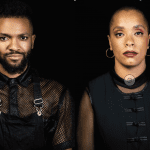 OYSTERKNIFE is the choreographic duo of Chibueze Crouch and Gabriele Christian. They are both queer, Black artists who create work rooted in traditions from the African Diaspora.
Christian is an artist bred in New York City and baking in Oakland. Their work metabolizes the vernaculars within BlaQ diaspora—futurity, afrovivalism, faggotry—through body-based live performance and poetics. Crouch is a queer Nigerian-American (Igbo) actor and artist from Danbury, Connecticut (Paugussett land) currently living in Oakland, CA (Chochenyo Ohlone land). Her creative practice straddles theater and performance art, examining Diasporic longing and constructions of identity through masquerade, song, text and multidisciplinary live performance.
ACKNOWLEDGEMENTS
An extraordinary group of people and organizations made this project possible.
Special thanks to the Bound Together Bookstore, Haight Ashbury Free Clinic, St. Agnes Church, the City of San Francisco's Entertainment Commission, SFMTA, San Francisco Recreation and Park Department, and the San Francisco Police at Park Station for being the partners that brought this production to life. 
To San Francisco Mercantile for flowers and merchandising support. To Maureen Royce for advising on engineering. To Chris Tipton-King of Frame Story, Dan Sweeney and Accelerator Design Studios, Paul Dresher Ensemble, GG Torres, Guy Brenner, Island Creative Management, Matt Leonard, Jamison Valerio, and Live Box Digital for equipment. And to the costume department of UC Berkeley Department of Theater, Dance, and Performance Studies.
We are grateful to Mike Buhler for his early support of this collaboration, and Donna Graves for providing early research. 
Audio Description by Stephanie Hewett of Gravity Access Services was supported by a generous grant from the Haas Fund and the Kenneth Rainin Foundation. 
Time of Change is made possible with support from The Creative Work Fund, a program of the Walter and Elise Haas Fund that also is supported by The William and Flora Hewlett Foundation; San Francisco Grants for the Arts; Kenneth Rainin Foundation; Bernard Osher Foundation; Frances Hellman and Warren Breslau; National Endowment for the Arts; and the generosity of the following individuals [donations received between September 1, 2020 and August 30, 2021]:
Alan and Wendy Tabor
Alan Bernstein and Cynthia Berke Bernstein
Alice Muller
Amy Luckey
Anne Neill
Anonymous
Barbara Penny and Kristi Gochod
Barbara Sherman Steinberg
Barbara Tatum
Becca Dean
Beth and Michael Ward
Beth McLaughlin
Blazin
Bobbie Fisch and Bill Johnston
Bonnie Brooks
Bonnie Lewkowiczi
Boris Shekhter
Carol Egan
Caroline and Roger Purves
Cathy Zoi and Robin Roy
Charlene Steen
Charley and Lynda McLaughlin
Chris Murchison and Daniel Luis
Christine Elbel and David Auld
Christopher Bigelow and Livia Blankman
Dalia Rassier
Daniel and Gilda Sullivan
Daniel Caul and Damir Hurdich
Daniel Rossi
David Cost and Kate Stechschulte
David E. Meders
David Landis & Sean Dowdall
Deborah Moss
Deborah Wade Matheson
Debra Kajiyama
Dennis Di Donato and Martin Taras
Dianne J. Ellsworth
Donald Marzetta
Donna Graves
Edward and Perri Burritt
Edward Joy
Edwina Olt & Hileri Shand
Elise Hurwitz
Elizabeth Barlow and Stephen McClellan (copy)
Elizabeth Burritt & Mark Marshall
Elizabeth Lyons
Elizabeth MacLeod
Elizabeth Mullaugh
Ellen Chamberlain
Ellen Sinaiko
Erica Wandner
Erik Rotman
Frances Hellman and Warren Breslau
Gae Shulman
Gail and Sharon Silva
Georgia and Robert Hamlin
Georgia Junker
Glen Fishman
Gloria Lau and Robert Burkhead
Grisel Torres
Hannah McIntosh
Heather Rainusso
Helen Cohen and Mark Lipman
Henrik Meng
Henry Massie and Bridget Connelly
Jaclyne and Michael Recchiuti
Jacqueline Jackson
James Hormel and Michael Nguyen
James Patrick Finerty
Janine Paver and Eric Brown
Jeanette Cool
Jennifer Norris
Jennine Heller and Chris Bremser
Joan Dee Becker
Joanna & Thomas Reynolds
JoAnne Tillemans
Jocelyn Alter
Jody Hahn
Joe Goode
Joel Crawford
John Lehnert
John Martin
John Mercer
John Sander and Patti White
Julie Binkley
Juliette Crump and William W. Bevis
Karen and Corbin Bennett
Karen Sullivan and Ken Mitchell
Katherine Mattson and Dan Sweeney
Kathleen Moore
Kathleen Ryan
Katie Christ
Kerry King and John Goodman
Kim Fowler
Kirk D. and Nanilee B. Robarge
Kristin Leimkuhler and Jeffrey Wilk
Laura Fly Bellows
Lauren Christopher
Laurence Pulgram and Kathleen Murray
Leah Edwards
Lester Olmstead-Rose and Arnel Dey Leon
Li Chiao-Ping
Linda Duke
Lisa Clapper
Lois Lehrman Grass
Lucia August
Lucille Freedman
Lynne Blair
Maia Rosal and Seth Rosenthal
Marc and Lois Martin
Margaret and Franklin West
Mari Mahoney
Marlyce Johnson and Jerri Brown
Martha Gayle Fowlkes
Martha Mangold and Rick Maggio
Mary Jane Eisenberg and Alyson Belcher
Mary Miller
MaryAnn Maineri
MaryAnn Walter McDonald and Bill McDonald
Mary Prisco
Maureen Murphy
Mercy Sidbury
Michael Gonzalez
Michael Rimar
Michelle Bergtraun
Mike and Patty Phleger
Mitchell and Kristen Yawitz
Nancy Gille
Nancy Spangler and Eric Wildgrube
Nina Nakao
Norman Abramson
Norman E. Towle, Jr.
Pamela Everets
Patrick Nakao and Molly Goode
Paul Irving and James Emery
Paul Wyman
Paula Elliott
Peggy Gaither Adams
Philein Wang
Regina and Irene Dick-Endrizzi
Richard Ford
Richard Weisgal
Robert and Toby Rubin
Robert Green and Vince Meis
Robert Kinosian
Ronald Reneau
Ronald Wong
Roy and Rose Borrone
Samantha Zenack and Edward Warburton
Sara Saltzman
Scott Nielsen
Seth Meisler
Sharon Valdez
Sharry and Alec Bash
Shelley Richanbach
Sheri Greenawald
Stefanie Bonigut and Sean Pickton
Steven and Nancy Oliver
Steven Tierney
Sukey Lilienthal and David Roe
Susan Shepard and Chuck Leoni
Susana Muñoz and Roger Lake
Suzanne Garnier
Sydney Leung
Taj Ait-Laoussine and Andrew Sullivan
Tanya Wischerath
Michael TenBrink
Tim Vincent and Michael Taylor
Toni Rembe and Arthur Rock
Troy Edelen
Wendy Bolker
William Jenkins 
---
---
#timeofchangeSF @joegoodeperformancegroup @sfheritage 
@mele_moves @bandaloop @_oysterknife
photo of Jessica Swanson, by RJ Muna